Groupage freight is a good way to ship your goods in a quick, easy and cheap way. With groupage freight, you benefit from sharing a truck with other shippers.
What is groupage freight?
With groupage freight, you share a truck with other customers. The truck transports not only your goods, but also many other goods.
Your goods do not remain on the same truck during the entire transport, but are transshipped several times. To make transshipment as smooth as possible, it helps to ship your goods well packaged on a pallet.
By sharing a truck with other shippers, you can achieve significantly lower prices for groupage freight than if you book your own truck for your transports.
Shipments that do not exceed 2.4 loading meters (6 Euro pallets) and weigh less than 3500 kg are shipped as groupage freight. If the shipment exceeds this size, we automatically send your goods as a direct load.
How do I book a groupage freight?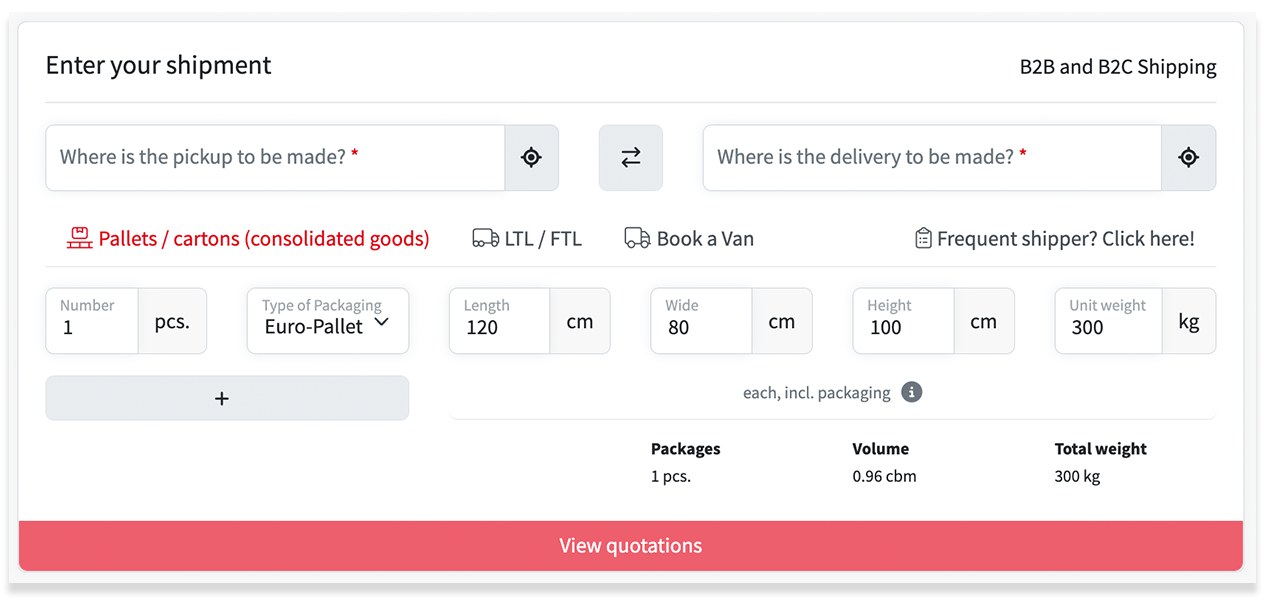 To begin with, you must enter your pickup location and delivery location on my.cargoboard.com. For the first step, the city name or postcode is sufficient here. Simply enter the pickup location and the delivery location and select the correct entry in the drop-down menu.
The next step is the shipping method. The shipping of pallets and cardboard boxes in groupage freight has already been preselected, as this is the most popular type of transport among our customers. It is suitable for shipments consisting of 6 or fewer Euro pallets.
In the booking process, you must specify how many pieces of a package you are sending and the dimensions and weight of the packages.
A Euro pallet with the standard dimensions 120 cm x 80 cm is preselected. You must enter the height and unit weight yourself, as these values depend on the goods being transported on the pallet.
In addition to a Euro pallet, you can select many other packages via a drop-down menu. Other packages include one-way pallets and pallet cages.
Especially when shipping groupage freight, it makes a lot of sense to ship goods on a pallet. We do not recommend sending individual cardboard boxes, as these can be damaged more quickly and easily during transport.
>>In this article you will find all information about pallet shipping<<
If you have several different goods to send, you can add further packages to be transported to the list by clicking on the "Add packages" button. Once you have entered all the goods to be transported, you can view our non-binding transport offer.
What shipping options are available for groupage freight?
For groupage shipments, you can choose between 3 different shipping options. Depending on your personal requirements, you can choose between standard, express and preferred date shipping.

With express shipping, your shipments are additionally prioritised and specially tracked by us so that we can intervene directly in the event of problems with the shipment.
With preferred date delivery, you can set the collection and shipment to a fixed date. Many of our customers use the preferred date especially if the collection and/or delivery is not to take place on the next day, but a few days in the future. With preferred date delivery, we will store your goods for up to 4 days free of charge, if requested.
In addition, you still have the option of booking a Direct Load.
How can I further customise my groupage freight shipment?
In the next step, you can further customise your selected shipment.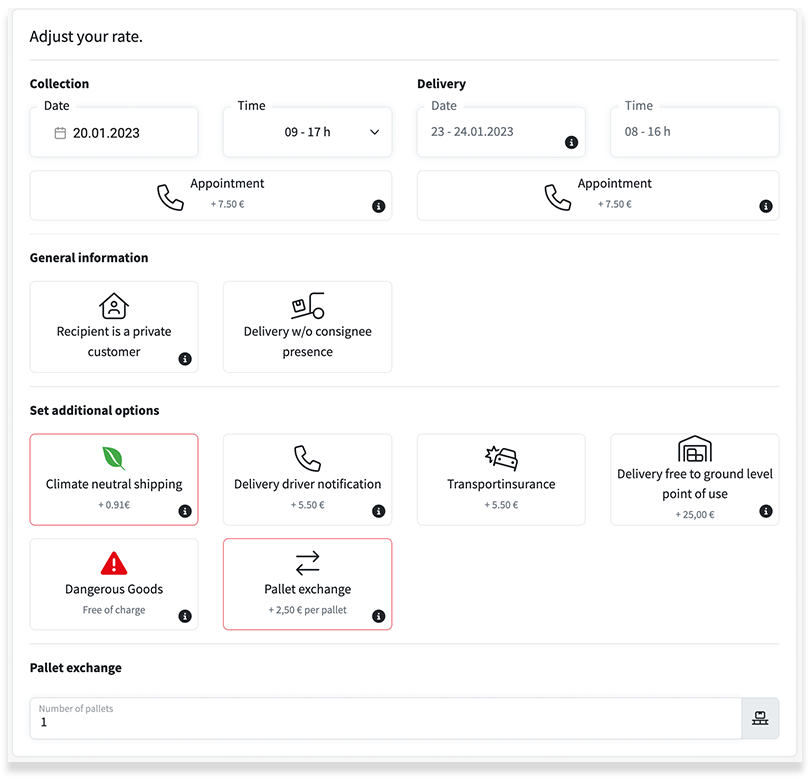 At the top of the page you can set a date for the collection of your goods and select a desired time window. For preferred date deliveries, it is still possible at this point to move a delivery date further into the future.
You have the option of selecting an appointment for both the collection and the delivery date. With the telephone appointment, the collection and delivery are first coordinated by telephone with the shipper or consignee.
>>All about appointments and delivery notifications<<
An important question for delivery is whether the consignee is a private customer. Since delivery to private customers is often more complicated, it is obligatory for deliveries to private customers to either book an appointment for delivery or to give drop-off permission.
Attention: It is particularly important for you as the shipper or consignor that the drop-off permission is agreed with the consignee and recorded in writing.
The option drop-off permission is mainly used to enable the delivery of goods even if the consignee is absent. Of course, a drop-off authorisation is not only possible for private customers, but can also be discussed and booked with any of your customers.
The purpose of the appointment or the drop-off permission is to prevent customers from not being on site at the time of delivery, which would result in an unnecessary drive for which you would have to pay.
In addition to collection and delivery, you have other options here.
With our climate-neutral shipping, you can send your shipment climate-neutrally. The additional charge for CO₂ compensation goes 100% to carbon offset projects run by our cooperation partner myclimate.
>>All about sustainability and Cargoboard<<
If you add a delivery notification, the truck drivers will call the consignee 15 - 30 minutes before the arrival of the truck, thus ensuring optimal coordination and smooth delivery.
With freight forwarding, shipments are not automatically insured. We recommend that all our customers take out shipping insurance. You can read about the advantages of shipping insurance with Cargoboard here.
>>All about shipping insurance<<
If standard delivery to the curbside is not sufficient for you, we offer the option of free at place delivery. The destination must be accessible at ground level from the vehicle using a pallet jack. There must also be no grass or gravel on the way so that your goods can be transported.
As a special service, we offer the transport of dangerous goods for groupage freight at no additional cost. As the transport of dangerous goods involves some pitfalls and possible problems, we ask you to inform yourself in detail and to consult our service team.
>>Important information about the shipping of dangerous goods can be found here<<
The last option we offer you is the pallet exchange. If you send your shipments on Euro pallets, you can exchange your pallets with empty pallets. To do this, enter the number of Euro pallets to be exchanged at the bottom.
Please note: The pallet exchange is not possible for private customers, as the consignee must exchange empty Euro pallets.
>>You can find out all about pallet exchange here<<
Collection and delivery information
After you have finished customising your shipment, you must now specify the exact dates for collection and delivery.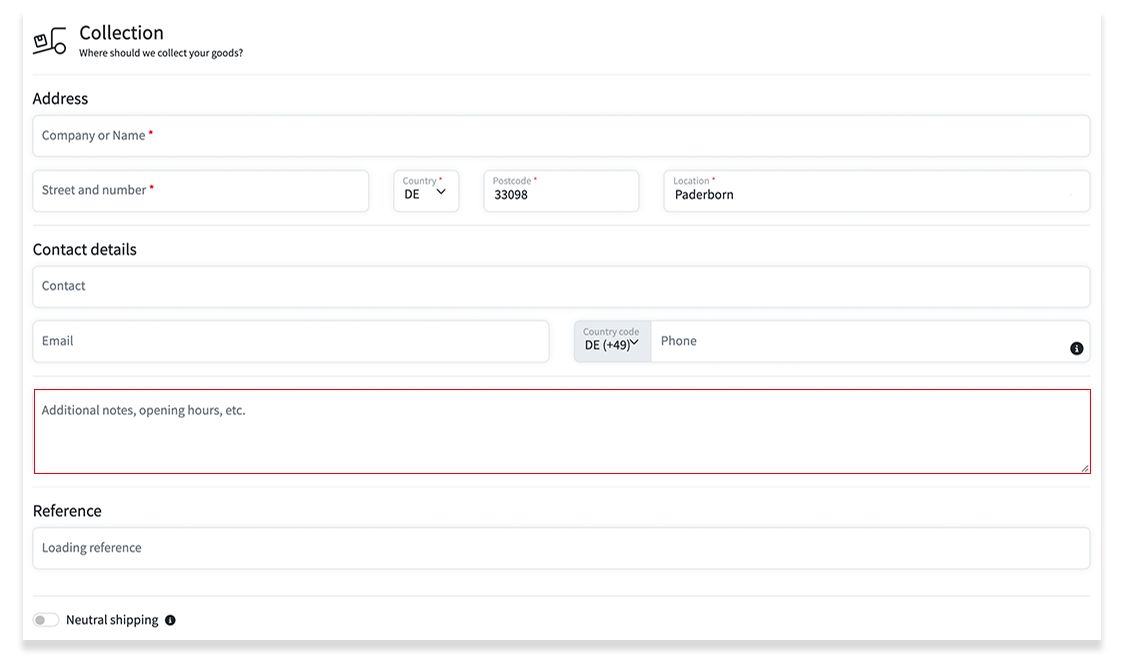 For both delivery and collection, you have a free text field in which you can note comments regarding break times or any traffic obstacles or restrictions.
At the end of the input mask you can, if necessary, enter required reference numbers that are needed for identification at the loading or unloading point. This is normally only the case for larger companies or warehouses.
>>For more information on collection and delivery, click here<<
In the next step you can select the desired payment method. We offer PayPal, Sofortüberweisung (prepayment), Giropay and Visa for all our customers as well as purchase on account for our registered customers.
As a registered customer, you have even more advantages when paying at Cargoboard. From as few as 5 shipments per month, you can benefit from attractive discounts
Complete booking
In the last step, you must fill in the mandatory field Contents. We need a short description of your shipment.
In addition, it is possible to enter an internal reference (e.g. an order number for the customer to assign) and upload documents such as customs documents and delivery notes.
Doublecheck all the details and click on "Book securely".
Congratulations, you have successfully placed your shipment order with Cargoboard.