If you ship your goods using Euro pallets, you have the option of having them exchanged when they are collected - as well as when they are delivered.
At collection, your pallets are loaded onto the truck. You will receive the same number of empty pallets back in exchange. The delivery process is similar. The consignees receive the pallets and give the same number of empty pallets back to the truck driver.
By exchanging pallets, you do not need to constantly buy new ones. Pallet exchange costs only 2.50€ per Euro pallet.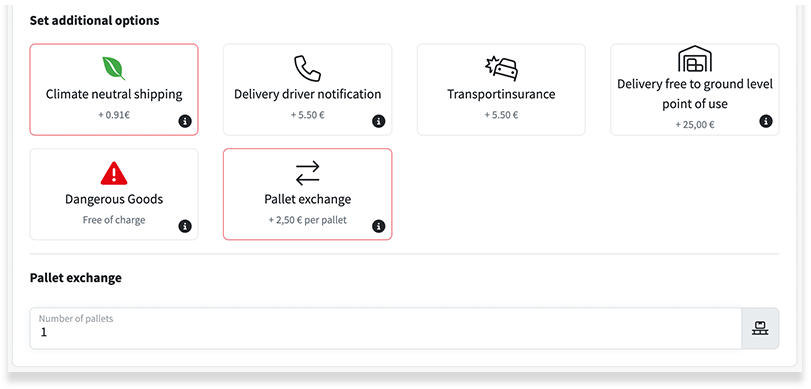 You have the option of choosing the pallet exchange while booking your transport. During this step you can also specify how many pallets you would like to exchange.
Pallet exchange usually makes sense if consignees and shippers have empty Euro pallets in stock.
Tip: It is recommended to use a one-way pallet if you deliver your goods directly to the consumer or if your customer does not have Euro pallets for exchange.
Please note: There is no pallet exchange when shipping to private customers.
Euro pallet exchange can take place in the following countries:
Germany
Austria
Netherlands
Belgium
Luxembourg
What do I do if my pallet has not been exchanged?
It may happen that pallets cannot immediately get exchanged. This might happen, for example, if the truck has not loaded enough empty pallets. In such a case, have this noted on your shipping order or delivery bill. Feel free to write an e-mail to our Service Team or contact us via the Solution Center with a general enquiry. A short message that no pallet exchange has taken place in combination with the corresponding order number is sufficient.
When is a Euro pallet no longer exchangeable?
There is a series of deficiencies that cause Euro pallets to lose their exchangeability:
A board is missing
A board is broken diagonally or crosswise
Edges or boards are splintered in a way that at least one nail shaft is visible
A block is missing or damaged so that at least one nail is visible
The EPAL pallet marking is missing
In general, a Euro pallet is not allowed to have any damage that would endanger the stability of the pallet.

You can find out what else you need to know about collection and delivery by clicking here.