Pallet shipping is the most common way for forwarders to transport goods. A Euro pallet or one-way pallet is used to transport your goods safely as groupage freight.
Why is pallet shipping important in groupage freight?
Since you share a truck with many different shippers, the use of a pallet makes a lot of sense. The truck transports not only your goods, but also many other goods.
Your goods also do not remain on the same truck during the entire transport, but are transshipped several times. To make transshipment as smooth as possible, it helps to ship your goods well-packaged on a pallet.
Sharing a truck with other shippers can result in much lower prices than booking your own.
When do I have to ship with a pallet?
In principle, a pallet must be used if the goods to be transported weigh more than 30 kg.
From a weight of 30 kg, it is enormously important that the goods are accessible from underneath. A pallet is constructed in such a way that the goods can be easily lifted and transported with a forklift or pallet jack.
A pallet provides the ideal base for your goods consignment so that your goods can be transported optimally without damage.
What is a Euro pallet?
A Euro pallet is a wooden pallet standardised according to EN 13698-1. Due to the specified dimensions and materials, Euro pallets can be exchanged and used several times.
A Euro pallet has dimensions of 1,200 x 800 x 144 mm. This size is adapted to the loading area of a truck. The loading area has a width of approx. 2.40 metres, so that either 2 pallets fit crosswise or 3 pallets fit lengthwise next to each other.
A Euro pallet weighs between 20 kg and 30 kg, depending on the moisture content of the wood. Depending on the load on the pallet, the resilience ranges from 1,000 kg to 2,000 kg with an even distribution of the load on the pallet surface. As a rule, the load capacity of a Euro pallet is given as 1,500 kg.
How does pallet exchange work?
If you ship your goods using Euro pallets, you have the option of having them exchanged when they are collected - as well as when they are delivered.
At collection, your pallets are loaded onto the truck. You will receive the same number of empty pallets back in exchange. The delivery process is similar. The consignees receive the pallets and give the same number of empty pallets back to the truck driver.
By exchanging pallets, you do not need to constantly buy new ones. The pallet exchange costs only 2.50€ per Euro pallet.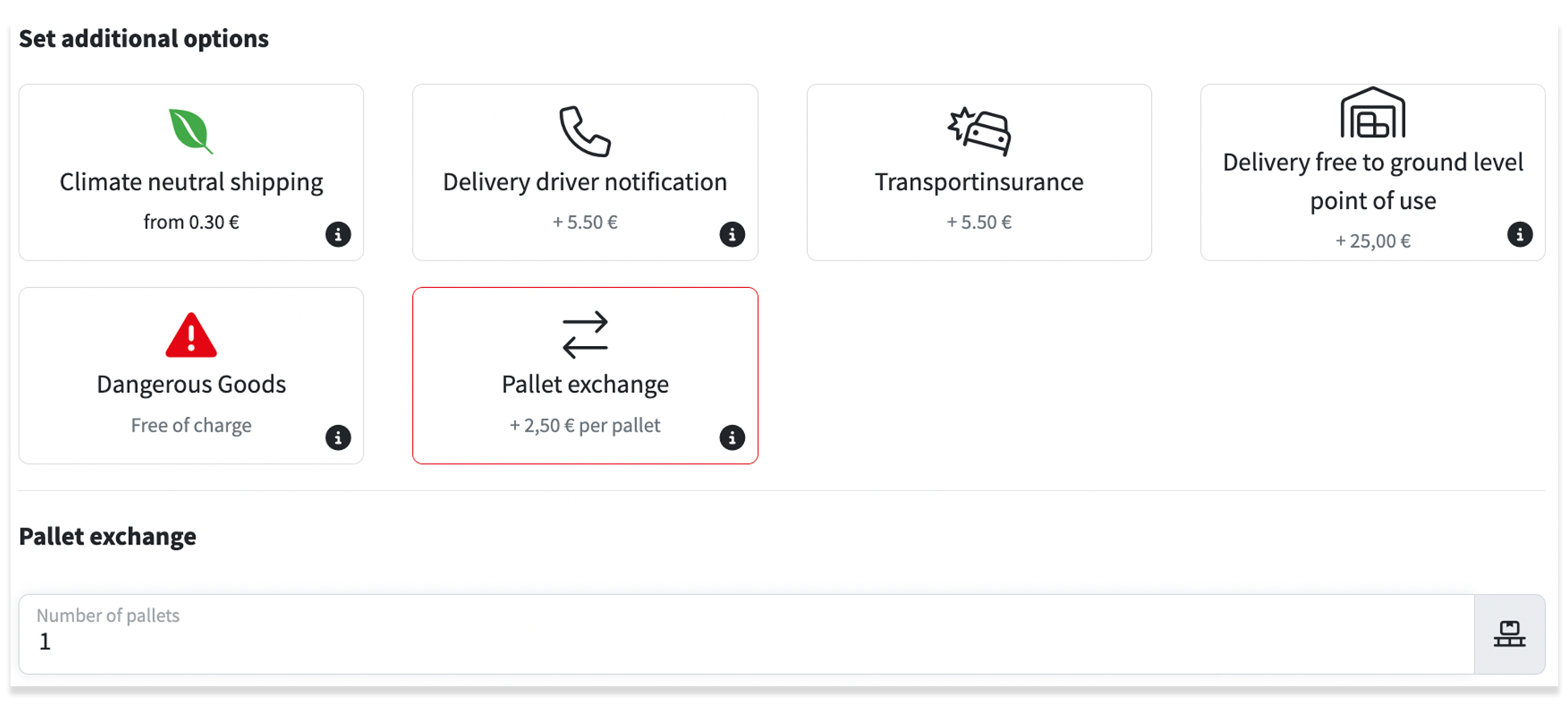 You have the option of choosing pallet exchange while booking your transport. During this step you can also specify how many pallets you would like to exchange.
Pallet exchange makes sense especially if your consignee and shipper have empty Euro pallets in stock.
It is recommended to use a one-way pallet if you deliver your goods directly to the consumer or if your customer does not have Euro pallets for exchange.
Please note: There is no pallet exchange when shipping to private customers.
Euro pallets are exchanged in the following countries.
Germany
Austria
Netherlands
Belgium
Luxembourg
What do I do if my pallet has not been exchanged?
It may happen that pallets cannot immediately get exchanged. This might happen, for example, if the truck has not loaded enough empty pallets. In such a case, have this noted on your shipping order or delivery bill. Feel free to write an e-mail to our Service Team or contact us via the Solution Center with a general enquiry. A short message that no pallet exchange has taken place in combination with the corresponding order number is sufficient.
When is a Euro pallet no longer exchangeable?
There is a series of defects that cause Euro pallets to lose their exchangeability.
One board missing
A board is broken diagonally or crosswise
Edges or boards are splintered in a way that at least one nail shaft is visible
A block is missing or damaged so that at least one nail is visible
The EPAL pallet marking is missing
In general, a Euro pallet is not allowed to have any damage that would endanger the stability of the pallet.
What is a one-way pallet?
One-way pallets are mainly used when the size of the goods significantly deviate from the dimensions of a Euro pallet. The advantage of one-way pallets is that there are many different sizes and materials that can be more suitable for transport depending on the goods to be shipped.
One-way pallets are also used when goods are shipped to the consumer and they cannot perform a pallet exchange. With a cheaper one-way pallet, you can save costs compared to a Euro pallet.
If you use a one-way pallet, please make sure that it has the necessary stability for transport. Especially with homemade pallets, issues can arise during transport, which are associated with delays and additional costs.
Where can I get a pallet?
Euro pallets and one-way pallets can be purchased in different ways. The easiest way is to get pallets via the internet or your local hardware store.
We would recommend that you purchase your pallets from our partner ratioform . You can get a large selection of one-way and Euro pallets in different sizes.
Caution: When buying your pallets, make sure that you do not buy any decorative pallets. These pallets are not only unnecessarily expensive, but also cannot always meet the applicable transport standards.
The high price of the Euro pallets can quickly be put into perspective by the pallet exchange. This way, you do not lose a pallet when shipping goods, but only exchange your pallet with an empty pallet.
Does it matter whether I use a one-way or Euro pallet?
Both one-way pallets and Euro pallets can be transported.
Euro pallets are exchanged at collection and delivery, as the Euro pallet is an exchangeable pallet.
Please note: There is no pallet exchange when shipping to private customers.
If you do not wish your pallet to be exchanged, please select the packaging type "One-way pallet" during the booking process, even if you are actually using a Euro pallet.
How should I pack my goods on a pallet?
Goods that are shipped on a pallet should also be packaged properly. As a first step, make sure that the goods do not protrude beyond the edge of the pallet. If in doubt, choose a slightly larger pallet.
Free-standing objects should be wrapped with bubble wrap and additionally protected with edge protectors and cardboard, polystyrene or similar. Optimally, you should transport free-standing items in a closed box.
Goods that are transported inside a cardboard box on a pallet should be additionally stabilised inside the box to prevent them from slipping. Packaging chips, polystyrene, cardboard or newspaper are suitable for this purpose.
How can I fix my goods on a pallet?
In addition to the correct packaging of your goods, it is also very important to fix your goods on the pallet. Your goods should be fixed centrally on the pallet with tension belts or lashing straps so that the goods cannot slip on the pallet.
For this purpose, the lashing straps or tie-down straps should be attached to both the long side and the short side.
Attention: Fixing the goods with a stretch film is not sufficient.
On the edges of your goods that touch the tensioning straps, it may make sense to attach an extra thick edge protector to avoid cutting into your goods.

You can see how to attach your goods to a pallet in the adjacent illustration.
How will my pallet be collected?
Usually your pallets are collected "free curbside". Depending on the conditions at the pickup location, the collection process may vary. If a logistics warehouse with loading ramp and forklift or similar is available at the pickup location, it will certainly be used.
Our trucks are equipped with pallet jacks and tail lifts so that pallets weighing 30 kg or more can be easily loaded.
If your pallets weigh more than 1,000 kg, pallet jacks and tail lifts are no longer sufficient. Suitable loading facilities must therefore be available at the pickup location. This includes, for example, a forklift or a loading ramp.
If the conditions at the pickup location make loading difficult, please contact our Service Team .
The collection of shipments usually takes place between 10 am and 4 pm. The exact collection time depends on the tour the truck will take. The trip usually starts with a full truck, which has to deliver the loaded goods. After delivery, the truck then collects the goods to be shipped.
How will my pallet be delivered?
The delivery of the pallets is also "free kerbside". While this type of delivery is normal for companies, private customers are often irritated.
Your customers should be aware that they are responsible for the transport from the curbside to the point of use.
For shipments of 1,000 kg or more per pallet, it must be ensured that suitable unloading conditions exist at the delivery location, for example in the form of a loading ramp or forklift.
Delivery for pallet shipping is usually between 8 am and 2 pm via "curbside delivery". The exact time of delivery may vary depending on the volume of shipments, the route and the arranged appointment.