With Direct Loads, you book a vehicle that takes your goods from the pickup location to the delivery location as quickly as possible. Your goods are driven directly to the delivery location with short transit times and a low risk of damage.
How do I book an Direct Load?
To begin with, you must enter your pickup location and delivery location on my.cargoboard.com. The city name or postcode is sufficient at this point. Simply enter the pickup location and the delivery location and select the correct entry in the drop-down menu.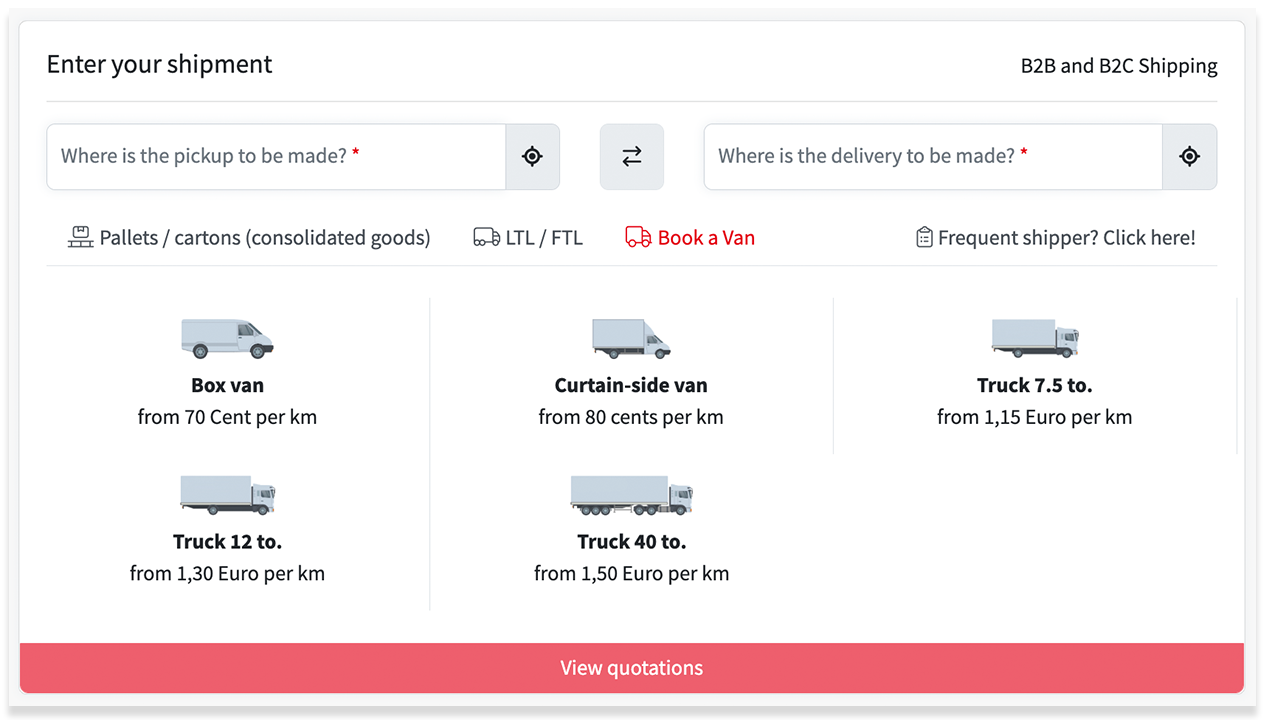 The next step is choosing a shipping method. The shipping of pallets and cardboard boxes in groupage freight is preselected. Select Express Direct Loads and an overview of the available vehicles is displayed.
How do I choose the right loading and unloading type?
For express direct loads, we generally ask you for the type of loading and unloading at the pickup and delivery location.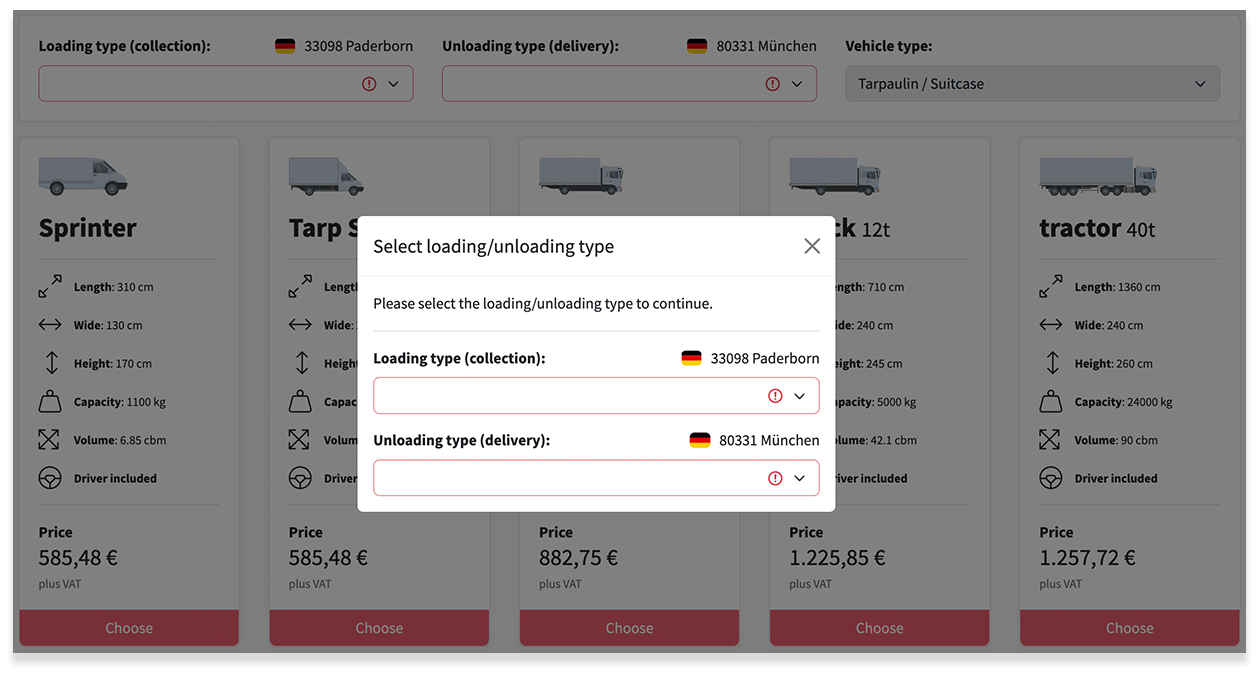 You have the option to choose from 4 different types of loading. Depending on the loading options available to the shipper and consignee, you must choose between ramp loading (or ramp unloading), side loading (or side unloading), crane loading (or crane unloading) and loading with tail lift and pallet jack (or unloading with tail lift and pallet jack). Depending on the selected type of loading, the appropriate truck type is selected for you.
Ramp load

In the case of ramp loading, the truck pulls up to a loading ramp for loading or unloading. The truck is then loaded or unloaded with the help of a pallet jack or forklift. The pallet jack or forklift must be available at the loading or unloading location.

Side loading

When loading from the side, the truck is loaded or unloaded with the help of a forklift. Here too, the forklift must be present at the collection or delivery location.

Crane loading

When choosing crane loading the goods are loaded onto the vehicle at the loading or unloading point with the help of a crane. The crane must be available at the loading points for this type of loading.

Tail lift and pallet jack

Loading and unloading with a tail lift and pallet jack is only possible for express direct loads under certain conditions. With this type of loading, the driver loads and unloads the goods for you.
In order for your shipment to be loaded with a tail lift and pallet jack, the shipment may have maximum dimensions of 2.45 m in length and 1.20 m in width and weigh 1,000 kg. The total weight of the consignment must not exceed 4,500 kg and 7 loading meters.
Note: For curtain-side vans, only a weight up to 650 kg per package is possible when loading with tail lift and pallet jack.
Attention: The loading type using tail lift and pallet jack is not possible for articulated trucks.
In the case of ramp loading, crane loading and side loading, the shippers and consignees are responsible for the loading and unloading of their goods.
What choice of vehicles do I have with Direct Loads?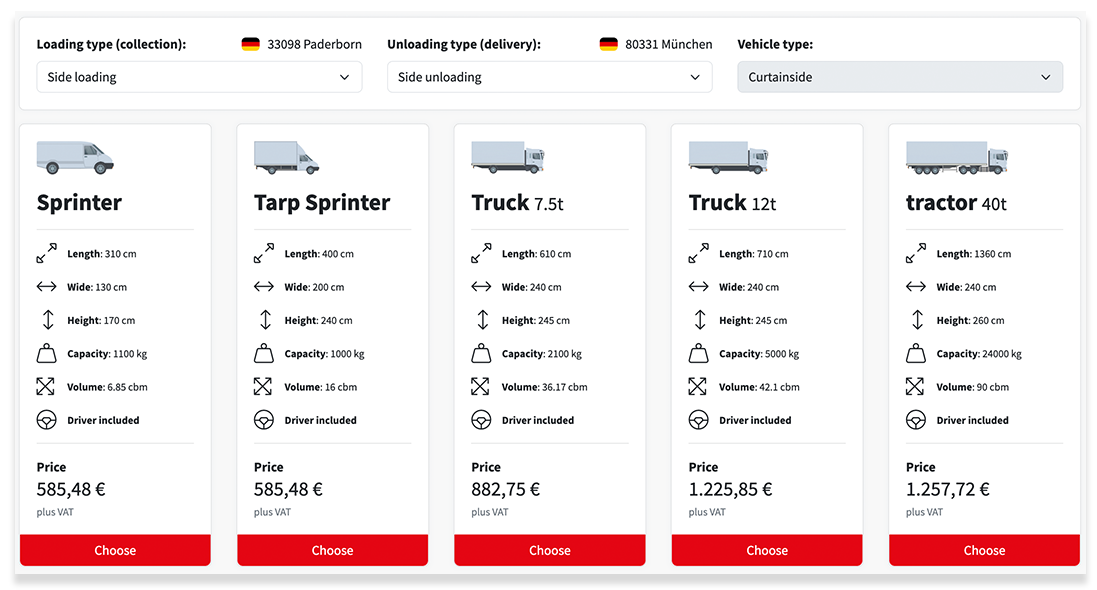 For Express Direct Loads, you can choose between 5 vehicle classes. Sprinters, tarpaulin sprinters, 7.5 t trucks, 12 t trucks and 40 t articulated trucks are available. Depending on the goods to be transported and the size of your shipment, different vehicles may suit your shipment.
Our (curtain-side) vans are particularly popular with customers who book Direct Loads. Our truck drivers can deliver important goods to the desired destination particularly quickly.
Note: In the case of Direct Loads, it is also possible to send unpackaged goods. Nevertheless, it must be ensured that the goods are stowed securely on the truck.
How can I customise my Direct Loads?
In the next step, you can customise your selected shipment.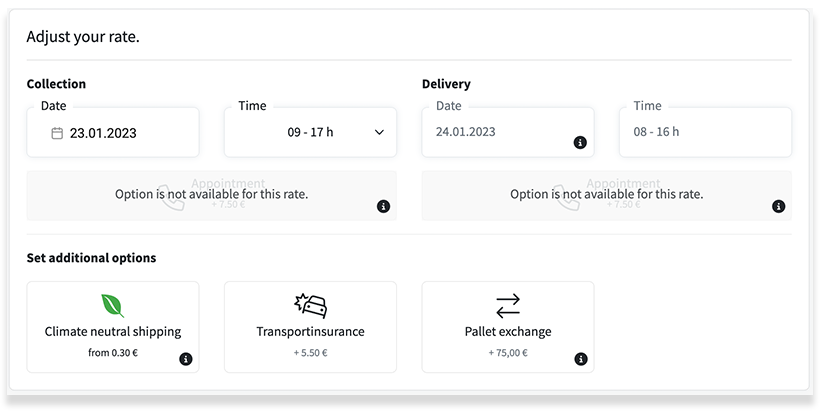 At the top of the page, you can set a date for the collection of your goods and select a desired time slot.
With our Express Direct Loads, you do not have the option of making an appointment for the delivery, as our truck drivers transport your goods as quickly as possible.
>>All about appointments and delivery notifications<<
In addition to collection and delivery, you have other options here.
With our climate protection contribution, you can support climate protection projects in order to counter the CO₂pollution caused by your transport. The surcharge goes 100% to climate protection projects run by our cooperation partner myclimate.
>>All about sustainability and Cargoboard<<
Shipments are not automatically insured in the freight forwarding industry. We generally recommend that you take out shipping insurance for all shipments.
It can be said that shipments sent by Direct Load are very safe and less susceptible to damage in comparison to shipments in groupage freight. Since the goods are not transshipped, the main source of damage to your goods is eliminated. You can read about the advantages of shipping insurance with Cargoboard by clicking the link below.
>>Everything about shipping insurance<<
Collection and delivery information
After you have customized your shipment, you must specify the exact dates for collection and delivery.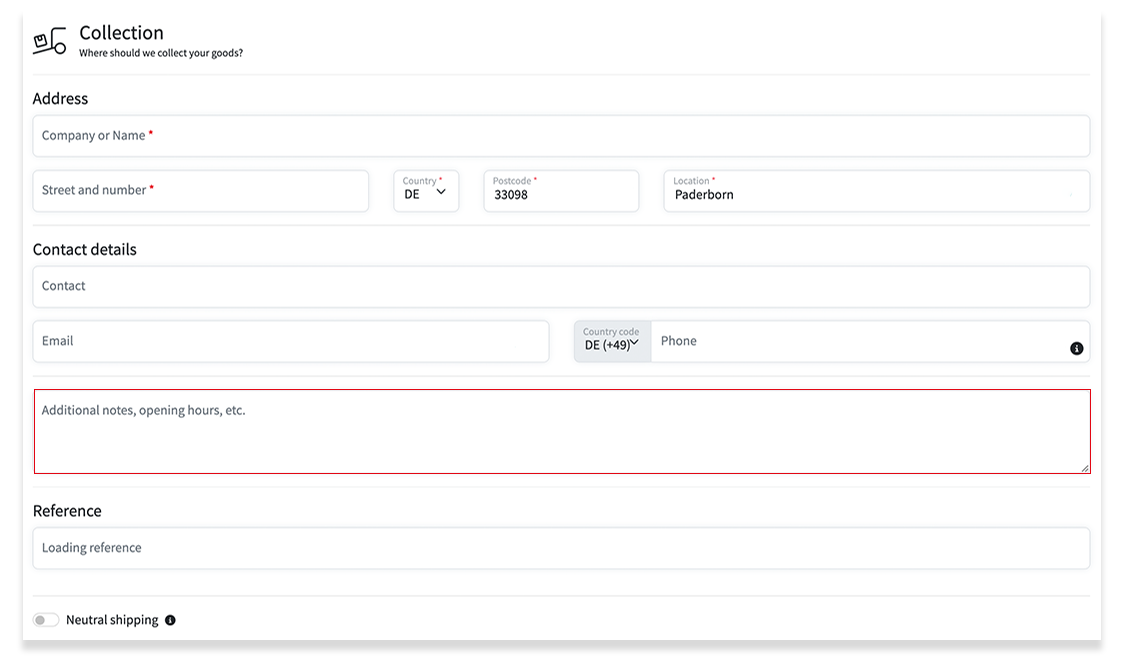 For both delivery and collection, you have an empty text box in which you can note comments regarding break times or any traffic obstacles or restrictions.
At the end of the entry form you can, if necessary, enter required reference numbers that are needed for identification at the loading or unloading locations. This is usually the case for larger companies or warehouses.
>>For more information on collection and delivery, click here<<
In the next step you can select the desired payment method. We offer PayPal, Sofortüberweisung (prepayment), Giropay and Visa for all our customers as well as purchase on account for our registered customers.
As a registered customer, you have even more advantages when paying. From as few as 5 shipments per month, you can benefit from attractive discounts.
Complete booking
During the last step you have to fill out the mandatory field "Content". We need a short description of your shipment.
It is also possible to enter an internal reference (e.g. an order number for the customer to identify the delivery) and upload documents such as customs documents and delivery notes.
Doublecheck all the details and click on "Book securely" .
Congratulations, you have successfully placed your shipment order with Cargoboard.