For our registered customers, it is possible to select payment by invoice after a credit check.
We are happy to offer our customers the option of paying on account.
Since high invoice amounts quickly accumulate in the logistics sector, it is important for us as a freight forwarder to protect ourselves against possible payment defaults.
Companies registered with us therefore undergo a credit check with our partner Creditsafe before payments can be made on account.
If you do not have the option to pay on account, it is either because we have outstanding invoices or a negative credit report.
Note: A negative credit report does not necessarily have to be related to a low credit rating. Especially in the case of very young or unknown companies, it may be that you are not yet listed with our partner Creditsafe.
You are welcome to contact Creditsafe directly for more information about your credit report.
Creditsafe phone number: +49 (0) 30 756 499 000
One possible solution is to request a new credit check. In the "Payment" area within your user account, you can request an activation for payment on account.

We will be happy to carry out a new credit check and contact you afterwards.
Is there a way to combine my orders into one collective invoice?
To relieve the burden on your accounting department, we offer customers with more than 10 shipments per month the option of a collective invoice. You can easily request payment by collective invoice in your user account in the Payment section.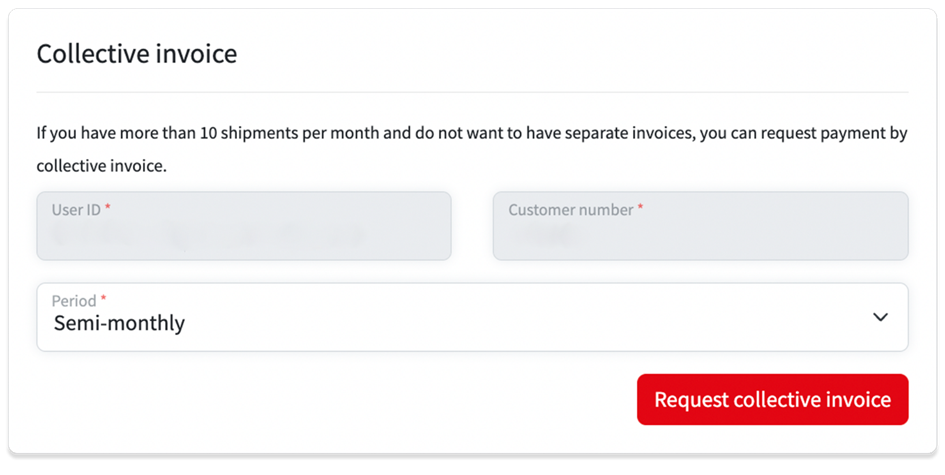 With a collective invoice, the invoice is issued in a period of time that you specify. You can choose whether you want to receive your collective invoice weekly, semi-monthly or monthly.
Tip: Most of our customers opt for the semi-monthly collective invoice.
Where can I find my invoices?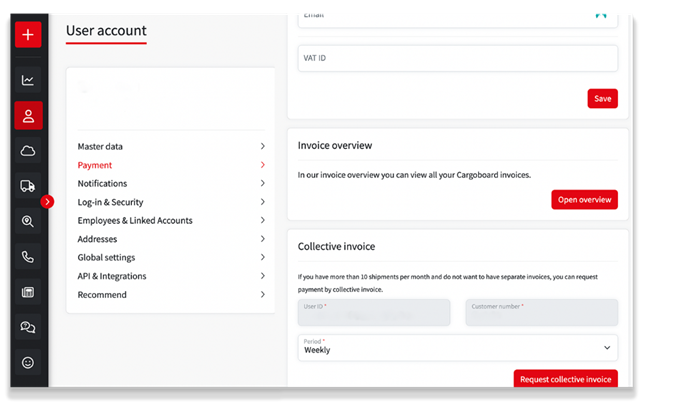 In your user account you can view and download all your invoices. Go to the Payment tab and click on the "Open overview" button in the Invoice overview section.
When is the invoice issued?
On the scheduled collection day of your consignment, the invoice is issued and then sent by e-mail. The invoice is always addressed to our client.
Note: For payment by invoice, our standard payment term is 12 days.